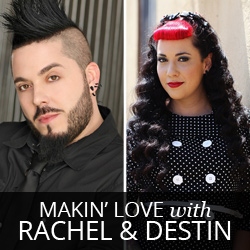 We are so happy to be here!
You all know us as Patti's left and right hand on Millionaire Matchmaker, but did you know that we are also the bread and butter in the REAL business, Millionaire's Club?!
Yes, we not only help run the company, but we also have clients of our very own and are TRUE matchmakers. How do you like them apples?!
We are here to help you with any and every relationship issue, question or dilemma you have. We've seen them all and heard them all and we've learned how to answer from the best. We know the rules, so you can know when to break the rules. We are prime examples of that as we are a true success story of our own doing — we met, fell in love, had a baby (who is now three!) and got married in our own order! BOOM!
Ask us anything from how to find love to how to potty train your toddler! I guess you could call us a one-stop life shop. We can't wait to hear from you and let you in on our lives as the matchmaking couple, students that learned to be teachers.
Now then, let's get the question everyone asks us out of the way first: How did you both meet? The answer: We met on MySpace! Yes, that long-lost site before Facebook was even a glimmer in Mark Zuckerberg's eye. We're not sure who found whom first, but seven years ago we met each other and, long story short, we fell in love and are now living happily ever after. It was during that time that we got involved with Patti and her company and instantly became committed to helping others take their own path to the same destination: Makin' love! That's the best part of the job — the success! Who doesn't enjoy seeing two people find each other and create their own fairy tale?
We hope you enjoy our stories, advice and blogs! Our tips are here for you to choose when to use… and when not to!
To learn more about Destin Pfaff and Rachel Federoff read our bios by clicking our names, visit us on the web at www.SinHalo.com and www.DnRbrands.com and be sure to follow us @destinpfaff and @rachelfederoff!
-Muah! XOXO!