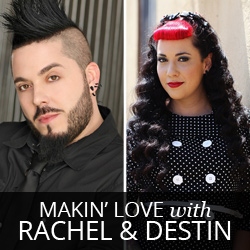 Boys and girls, it has come to our attention that most of you simply don't know how to act on a first date. So let's start on the outside and work our way inside.
Ladies, keep your dress or skirt to no more than an inch or two above the knee; keep him curious. Show a little cleavage, but don't release the twins. And don't walk out looking like you just robbed Tiffany's — when it comes to jewelry, a little shine goes a long way.
Make-up: Don't smear it on. Be light and fresh — not a French whore. This extends to your perfume, too. He doesn't need to smell you from a across the table… much less from a block away.
The Date: Engage in conversation — ask questions, answer questions, be open, keep it light, keep it conversational. He doesn't need or want to hear about your ex. Stay away from politics, negativity, subjects that cause conflict, are plain, simple or boring. When you eat, eat with sophistication. Be sure to say "please" and "thank you." Manners go both ways.
The End: At the end of the date, give a kiss — light or heavy. Be genuine and gracious in your appreciation. And don't sleep with them.
Hey Fellas! Look in the mirror. You look like hell. Take a second to put a little effort into yourself. Get clean-shaven or manicure your facial hair. Use items like after-shave, cologne and deodorant. Be sure to brush your teeth (teeth whitening goes a long way to make you look young). Dress nicely, not like you're a bum. No holey jeans, T-shirts or flip-flops. Wrinkles on your face are OK, but wrinkles on your clothes are NOT.
The Date: Again, manners go both ways. You have to follow the rules exactly the same as the ladies.
The End: Don't be cheap. Pay for everything, make sure she gets home OK and KISS HER AT THE END OF THE NIGHT. Be a man, take charge. She'll respond accordingly… and you'll know exactly where you stand.
All in all, you only get one chance to make a first impression, so make it your best!
To learn more about Destin Pfaff and Rachel Federoff read our bios by clicking our names, visit us on the web at www.SinHalo.com and www.DnRbrands.com and be sure to follow us @destinpfaff and @rachelfederoff!
-Muah! XOXO!