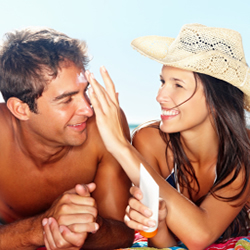 Blame it on Danny Zuko and Sandra Dee from Grease — or virtually any other Hollywood summer fairytale that has all of us wired to love (and long for) a fun summer fling.
After all, a season that combines gorgeous, shimmery skin and simple clothing with warm weather and fun outdoor fetes practically begs us to plant a kiss on someone.
Summer loving without the love: Pros and cons
Finding the right guy is like finding the perfect pair of shoes — and falling into a summer fling can be like finding a temporary stand-in: The black pumps that weren't quite the Jimmy Choos you've had your eye on. So, if you are interested in something more, be a good picker and hold off on the sex. Men are not bonded by sex, so say "no sex" until he's made it clear that he wants a relationship. Ask. You want the details at a job interview; you should expect the same about falling in love.
If all you want is to clean out the pipes, a summer fling can be great. There's nothing wrong with getting out and getting a little hot with somebody new, having no-strings-attached fun. But you have to be careful.
Women bond by Oxytocin, a chemical in your body, which doesn't recognize the difference between a loser and a good guy, so you've got to keep your heart and your head in check. Your summer fling isn't guaranteed to be a marriage-minded man and he may not be interested in a relationship beyond a little fun. If he's not a good guy, you could end up getting hurt no matter how detached you may have been at the start.
Don't forget that his feelings are also involved. If this guy isn't the one for you, or if you don't feel ready for a relationship, then make it clear to him what your intentions are up front. Be open and honest with him along the way. If your feelings start to change, talk about it. You lose a guy the way you get a guy — karma is karma.
Read more: Now, about that sexy summer dress >