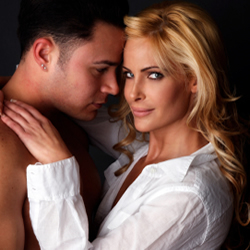 Every woman needs to clear out the pipes once in a while. If you're not ready for a relationship, casual sex can work. It's called "friends with benefits" for a reason — you like the guy, there's a physical attraction and you have fun together. The benefit is the easy, unattached sex without the regular needs and requirements of a relationship. It's an arrangement that can be great for those who don't want to sleep with multiple partners in order to get a little action. It's all the fun and play without the deeper needs of a relationship… in a perfect world.
Women who engage this way need to be careful. No strings attached can quickly become wanting to tie the knot, and it can happen whether you intend it to or not. It's because women bond with men through hormones we can't control. A woman's hormones can't tell the difference between a bad guy and prince charming — nor can they differentiate between a fling for fun and a long-term commitment.
You can end up falling for somebody who isn't relationship-minded, who may not have the same feelings as you do. No matter what kind of relationship you have, remember that you always run the risk of falling for the wrong guy.
I've said it before and will say it again that men don't bond with women by sex. They bond emotionally. Fix it in your mind that you won't let your heart get involved and be sure to choose your partner carefully. It should be a mutual agreement with respect for the connection you have and how you're choosing to utilize it. A friends-with-benefits policy doesn't mean you don't deserve respect. Watch out for any jerky moves and don't ignore them.
If he's at all somebody you think you could have a real relationship with, don't jump right into bed with him. Explore the possibility of a relationship if that's what you really want. But if you're sure he's not the one, and there's no way he'd ever be the one, don't forget to consider his feelings. Treat him respectfully, too. Be safe and have fun. You owe that to each other.
Read more: Exercise does your sex life good >