If you have a sporty activity planned for your date, there are a lot of more flattering options available now then when I was dating Bobby! Just make sure that none of these options includes writing across your tush. Even if you have an amazing one, no one needs to know how "Juicy" it is. And we're all familiar with the stone-washed, loose fitting, tapered, high-waisted denim nightmare that's sole purpose is to give anyone who wears them the dreaded "mommy butt". Just don't do it.
Going on an active date is becoming more and more popular these days. From girls my daughter Ally's age, to friends of mine back in the dating world again, women and men are looking for something different to do on the second and third date. Even if it's just a casual bike ride in the park with your partner, you still want to be comfortable yet feel confident and, of course, attractive!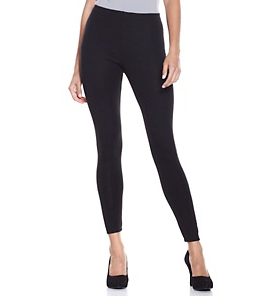 My daughter and I have always chosen leggings. They are the easiest to wear, always look good and are very comfortable. My Ponte leggings are my personal favorite and are sold online or at Lord & Taylor stores. They are naturally slimming and are amazing quality and price compared to some of the other brands out there!
If you want to tone and slim your tummy, hips and thighs for under $40, you can pick up a pair of my light weight shaper leggings. They have a fun tonal pattern and a little bling on the bottom, so you can wear them hiking with sneakers and a tee or dress them up for a bite to eat afterward with a long tunic shirt and heels. They are so easy to pack and travel with for the adventurous daters. Best of all, they have a butt booster!
When it comes to tops, unless you know the person beforehand and can guarantee that they'll get your ironic sense of humor, printed tees are always a gamble. Just trust me on this one, a classy print or simple tee is always the best option.

Finally, in my opinion, there is no reason any woman should feel compelled to own a pair of granny panties when there are endless options for cute, comfortable shaping panties at your disposal. Even if your date never gets a chance to see them, you'll know that you're wearing them. Try the styles shown here that are cute, feminine and secretly slimming! My newest Skweez Couture Shapewear collection debuts in Nov. for spring. Don't be afraid to show off your shape, just not in a too-sexy way.
XO, Jill