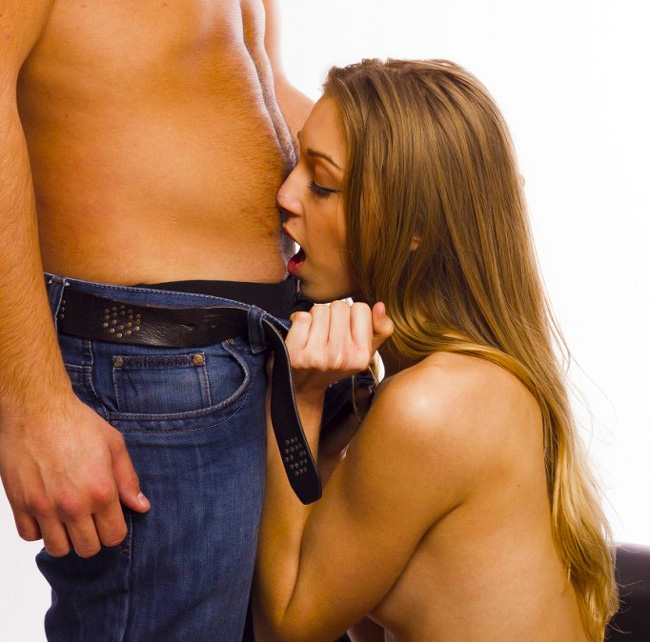 There are so many articles on the internet teaching women, "how to give an amazing blowjob" but you know what's so weird about it?
The articles are all written by women. That seems crazy to me. See, no matter how expert a woman thinks she is at giving blowjobs, she's not as great as she believes.
Why?
It's because men don't get blowjobs half as much as they should, so when a woman finally gives them one, they're not bothered how good at it she is. They're just happy a woman has her mouth around them at all. Anything feels amazing to them. So they tell her, "You're the best I've ever had. Amazing. Sucks like a princess" And the woman goes off feeling like an expert.
It's funny. As humans if there's something we really like, but don't get very often, we're happy to take whatever we're given whether it's any good or not. We put up with "average" because it's better to get something than nothing!
So, in this article, I'm going to reveal, from a man's point of view how to give an amazing blowjob. By the time I'm done with you, you'll be so good at it, your man will beg you to give him more. Not just that, he'll be eager to please you in return!
You see, in my mind, if you want to receive pleasure, you have to learn to give pleasure. And think about it like this, if you want to discover how to give amazing blowjobs, who would be the best person to learn from?
It's going to be a man every day of the week!
I mean, I love giving a woman oral sex, and from what they tell me I'm good at it, but I always tell guys to learn how to go down on a woman, from a woman herself. She has a vagina, I don't. She knows what feels amazing. The same way as I know what feels amazing for a man.
So, are you ready?
Communication

If you're giving a guy a blowjob, ask him questions about what he likes. Every guy is different and we all like something different. Ask him, "Shall I use my hands? Do you want me to lick the tip? Am I using enough pressure?"

When you ask him questions it shows him you're enjoying what you're doing, and that you want to please him. That way he's going to relax with you, and enjoy himself more. See, guys tend to be stuck in their head while they're getting a blowjob. They're wondering, "Is she enjoying this? Do I smell OK? Will she mind if I cum?"A man won't enjoy a blowjob, until he knows you're enjoying it!

She has a vagina, I don't. She knows what feels amazing. The same way as I know what feels amazing for a man.

Use Your Hands

Often guys need you to use your hands to help them to climax. Even if you lick and suck him hard and fast, it may not be enough without your hands getting in on the action. Why is this?

Men have been masturbating since the dawn of time. Guys who masturbate a lot have trained their bodies to orgasm that way. He's not used to having a woman lick or suck him so to get him to climax you'll need to replicate the feeling of masturbation for him. A combination of mouth and hand always has us panting in ecstasy.

Another good idea is to switch between using your hand and mouth. Stroke his penis with your hand, and put the tip in your mouth. The two sensations together will drive him nuts!

Don't Ignore His Balls

Be sure to kiss, lick, and suck on his balls. But for goodness sake, be REALLY gentle. I dated a woman once who took one of my balls into her mouth, and sucked it like it was a Willy Wonka ever-lasting gobstopper!

I have never experiences pain like it, and I never want to feel it again!

So, carefully and gently. Remember, they're testicles not candy!

Love The Perineum

The perineum is a magical strip that runs between a guy's balls and ass. Massage him there whilst you're down on him. Guys are sensitive there just like women, and if you pay it plenty of attention, he'll cum even harder for you.

Guys Need Foreplay Too

I've dated women in the past who'd kiss me and dive straight onto my dick as if they were in an Olympic diving event. Don't forget we have arms, legs, a chest and a back. Give our body some attention too. Touch and tease us. It all builds up the sexual tension for both of us.

Mix It Up

Alternate between giving him a blowjob and having sex. Having both sensations one after the other is amazing, and I'm telling you, he will have an orgasm like you've never seen before!

Swallow – It's only fair

We do it for you. But it's not just an equalizer. When a woman doesn't swallow, it reduces the feeling and lessens his climax. There's honestly nothing worse for a man when a woman says, "Tell me when you're about to cum," and then when he does she yanks her head away and leaves him to blow.

It weakens the orgasm completely and ruins the moment.

Don't Use Your Teeth EVER

Men can be like big old cavemen, and yes, cavemen loved their sabre tooth tigers, but I promise you there's nothing sexy about you going all sabre on our penis.

The skin on a man's penis is sensitive and when you use your teeth, it can feel like you're using a cheese grater. You need to learn how to cover up your teeth. A great way is to pretend you're an old woman with dentures in.
So ladies, there you have it. How to give a man an amazing blowjob!
To find out why you should never trust a man who runs from blowjobs check out the free podcast on my site, and while you're there make sure you grab the free video I'm offering which teaches you "How to attract the perfect man."
Are you single?
For those readers who are single, or if you have a single friend, please join Patti Stanger's Millionaires Club Matchmaking database by clicking here. Her team of Matchmakers will match you with their paying members. Confidential and free! Millionaires Club Matchmaking has clients all over the US, Canada and the UK. Join today for free!