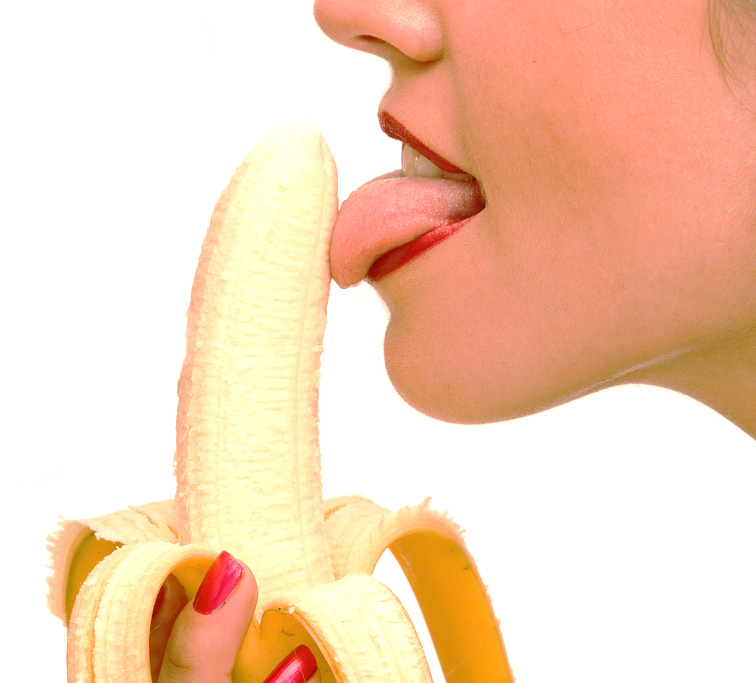 I know, you already know how to give a blow job. I used to think so too when I first started my career as a sexologist. Then I talked to hundreds of men and women about their preferences and techniques. I was still pretty convinced I knew how to perform like a champ, but then I met Conner Habib, a gay man who happens to do porn (listen to my podcast with Conner Habib here). If anyone knows how to give a blow job it's going to be a gay porn star. Here's some of my advice, Conner's advice, and all the advice I've received from my Sex with Emily listeners combined into one glorious blow job.
No Teeth

Alright, we've all heard Cosmos "give him a little nibble" advice, but that stuff is not for the faint of heart– or penis. While some people like to pucker out their lips, the safest bet is to stretch your lips completely over your lips. Don't pucker them out! Once you look like a toothless ninety-year-old with your teeth covered, you'll be ready to give a good blow job.

Under Pressure

Just because he doesn't want you to scrape your teeth across his penis, doesn't mean he wants you to gently suck his penis. Make sure you're applying enough pressure with your lips and tongue. If you're not sure how much pressure to apply, pop up and ask him. Remember, all men have different sensitivities. Sucking on the head is overwhelming for some guys while other guys love it.

Helping Hand

A helping hand compensates for any lack of pressure from your mouth. If you want to add a bit more pressure, use your hands. Not only do hands making giving a blow job a lot easier, but it also gives you momentum and freedom to focus on the head of the penis. Try giving his penis a little twist with your hand as you circle your tongue on his tip.

Lick it

Swirl your tongue around the head before swooping back down his shaft. Do whatever you need to do to keep your tongue up and licking. Try to imagine you're licking an ice cream cone and not a fleshy appendage protruding from his body.


Keep up the Pace

Most men don't want you to make love to their penis with their mouth. They want you to suck. Of course there are always exceptions to the rule. If you're going to slow it down make sure your tongue doesn't fall asleep. Keep it working the shaft and tip.

Touch His Balls

There are two kinds of men in this world: men who really want you to touch their balls and men who really don't want you to touch their balls. You can find out what kind of lad you're dealing with by giving his testicles a light tap. Try caressing his balls while you suck on his penis. Pay attention to how he reacts. If he's enjoying it, massage his balls while you give him a blow job. If you want your guys stuff to feel and smell fresh, give him DownUnder Comfort. A little DownUnder will keep his balls dry, clean, and ready for action.

Deep throat

You certainly don't have to deep-throat every time you give a blow job, but it's a huge turn-on for guys. Relax your throat and only go down as far as you feel comfortable. Breathe through your nose and lick while his penis slips down your throat. It's also easier to deep throat if he's leaning over you.

Variance

While some men are one trick ponies, most guys like it when you change things up every once in awhile. Changing things up does not mean trying something creative and different right when he's about to orgasm. It's finally almost over, don't spoil it now!

Lick outside your comfort zone from time to time, especially if you're sucking on the same penis everyday. If you're deathly afraid of his balls, grow a pair and bounce them around in your hands. If you're always using your hands, suck it up and give deep throating a try, or if you're feeling generous give him a blow job right when he walks in the door.

Eye Contact

Try to resist the urge to give him the death stare that says, "if you don't come soon, I'm going to kill you." Make eye contact while you're licking his tip, and look like you enjoy it. If you find it difficult to smile with his penis down your throat, look into his eyes lustfully. His penis is an ice cream cone, remember? (Try Masque: Sexual Flavors if you actually want his penis to taste like ice cream).

Enthusiasm

While most people don't adore having a penis bobbing in and out of their mouth for 30 minutes, you still act like you're having the time of your life. Enthusiasm is key for both cunnilingus and fellatio. Make noises and really get into it.

You might not always be super pumped when your mouth is balls-deep in his junk, but you do it because you care about his happiness, and hopefully he'll lick yours after you lick his.

If you enjoy giving a BJ it's because you get pleasure from giving pleasure, and you're good at it damn it. Don't ever do anything half-heartedly or half-assed in sex. With a tongue on his tip, finger on his balls, and your eyes on his eyes, go down on him like you mean it.
For those readers who are single, or if you have a single friend, please join Patti Stanger's Millionaires Club Matchmaking database by clicking here. Her team of Matchmakers will match you with their paying members. Confidential and free! Millionaires Club Matchmaking has clients all over the US, Canada and the UK. Join today for free!
Want more Sex With Emily? Check out my podcasts for free on iTunes, my book Hot Sex and my iPhone apps Kegel Camp and Sex Drive.
Check out my new intimate care line Emily & Tony.
Follow me on Twitter: @sexwithemily and Facebook: Sex With Emily