After a few weeks of loading up on vegetarian-friendly dishes, I felt like it was time to incorporate some protein into our diets. These drumsticks are some of my favorite things to make (and eat!) because the flavor combinations are endless. I prefer them on the spicy side, but no matter how you season them, they always come out of the oven juicy and delicious. Since they aren't breaded or fried, you can chow down carefree.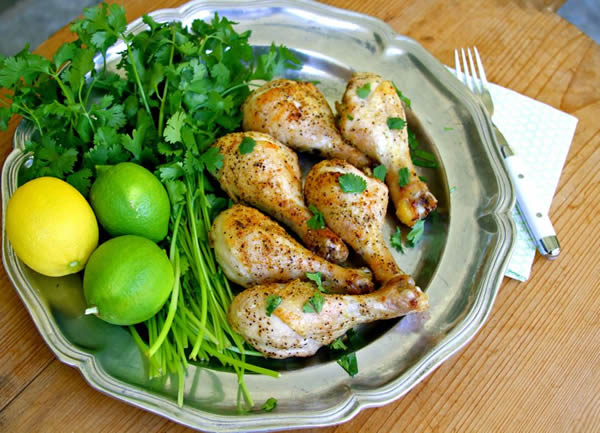 Ingredients:
Drumsticks
Garlic powder
Cayenne pepper
Chili powder
Kosher salt
Black pepper
Fresh limes
Cookie cooling rack and baking pan
Directions:
Preheat the oven to 375 degrees F. Rinse the drumsticks with cool water and dry well with a paper towel. Sprinkle garlic powder, cayenne pepper, chili powder, salt and pepper evenly across each drumstick. Lay drumsticks on cookie cooling sheet and set on top of the baking sheet. This will help them to get crispy on the outside and keep them from cooking in their own juice. The baking sheet will catch any drippings and prevent you from spending an hour cleaning your oven! Bake for 20 minutes.
Remove from oven and squeeze the lime juice across them.
Bonus Real Girl's Kitchen tip:
To give these drumsticks an added party feel for summer, marinate them in the fridge for a couple hours in a bowl of tequila. Don't rinse them, just season and bake.